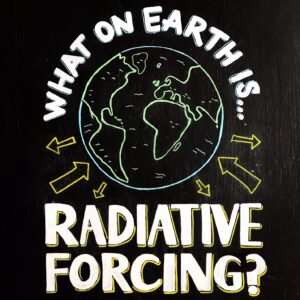 Do you know your CO2 from your N2O? Or your GHGs and CFCs? I am not going to lie: I had no idea what radiative forcing was until very recently. Although I spend my life writing about sustainability and trying to make planet-friendly choices, science isn't a strong point for me. So, when the opportunity arose to attend a climate science workshop in exchange for a review, I jumped at the chance!
The workshop is called Climate Collage and is run by the wonderful Sophia Cheng from With Many Roots. Over the course of three hours on Zoom, a small group of us sorted through a set of 42 cards containing some startling facts on climate science. Using an online tool called Mural, we went through a process of reasoning, creative thinking and discussion to link the cards together.
The information is taken from the Intergovernmental Panel on Climate Change (IPCC) 5th Assessment Report, which was published in 2014. Cédric Ringenbach created the Climate Collage concept and the workshop has already been taken by over 150 000 participants using 6000 facilitators!
Sophia was brilliant and put us all at ease to chat and ask questions. After learning some serious facts, and learning the science behind how human activity affects our planet, we went through a process to see how we can help as individuals. It was useful to remember our collective power and I came out of the workshop feeling reminded of my mission in life!
If you're interested in taking part, With Many Roots are facilitating monthly online 'pay-what-you-feel' Climate Collage workshops on Eventbrite, with dates through until November. Click this link to secure your place with a £5 deposit fee.
Just in case you're still wondering… "Radiative forcing is the difference between solar irradiance (sunlight) absorbed by the Earth and energy radiated back to space.[1] It is the scientific basis for the greenhouse effect on planets, and plays an important role in computational models of Earth's energy balance and climate."
Thanks for reading and Happy Earth Day 2021!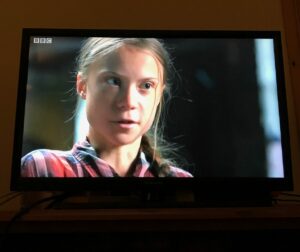 PS. My big brother recently met Greta Thunberg! He was part of a BBC camera crew filming the interviews with her for the 3 part series that is currently on iPlayer in the UK. I'd really recommend watching it. Greta is a powerful speaker, and urges us to listen to the information coming from our planet's leading climate scientists.
"The only thing that creates hope is action, and if there's no action there's no hope." – Greta Thunberg, 2021

On that note, get clued up, then get out there and do something to help our beautiful planet!